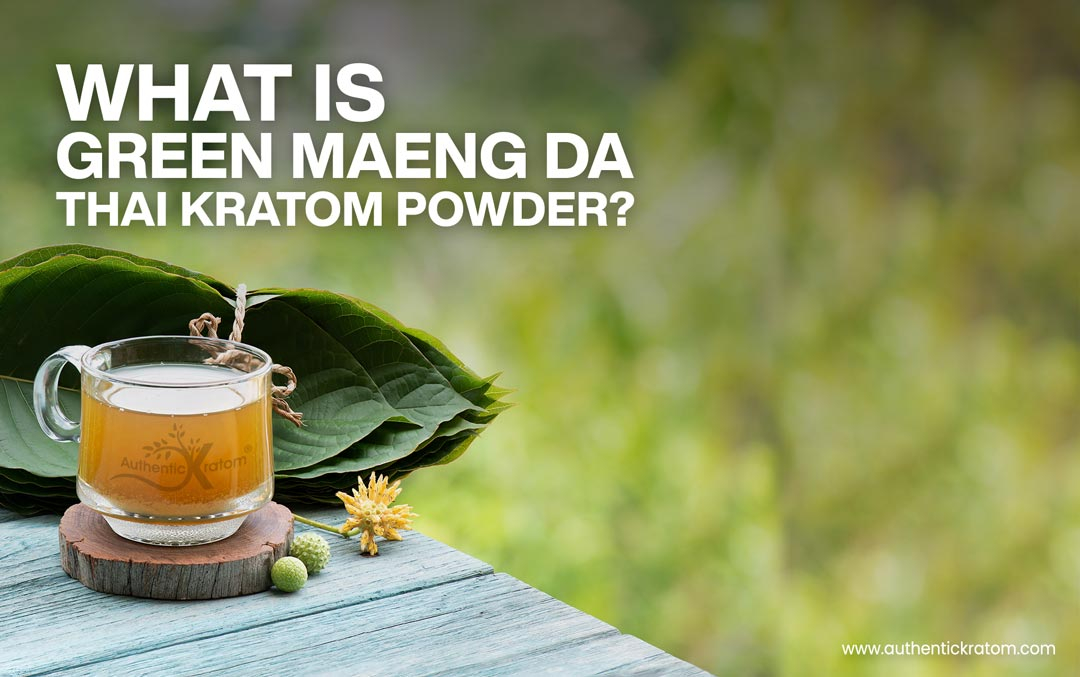 Do you want to know more about Green Maeng Da Thai Kratom but aren't sure where to begin? This article will cover everything you've ever wanted to know about green Maeng Da Thai kratom.
Every product has different forms, types, combinations, and benefits. People do not want to be limited or bound to a single thing in this modern world. Everyone wants to experience new and exciting situations to keep their lives interesting. The world is exposed to recent research and inventions as technology advances, such as electronic gadgets, edibles, automobiles, etc. Similarly, Kratom has developed new strains to provide unrivaled pleasure to kratom users.
Whether you are discovering kratom for the first time or have been consuming kratom powder for some time, there is always something new to learn about this beautiful, mystical herb. Everyone has a different favorite when it comes to Mitragyna Speciosa or kratom. Previously, kratom was only available in a few limited varieties; however, current information indicates that kratom is now available in several strains to meet the consumer's specific needs. While some people prefer white effects, others prefer red or green.
Further in this article, we will learn about green maeng da Thai kratom and its effects.
What is Green Maeng Da Thai Kratom?
Green Maeng Da Thai Kratom powder is one of the most significant members of the Maeng Da Kratom strain type of the Mitragyna Speciosa family. It is well-known for its long-lasting and robust properties.
Green Thai Kratom is a category of primary Kratom varieties. If you take Thai strain leaves as they are maturing and enhance them with Maeng Da, the result will be Green Maeng Da Thai kratom!
Because of Thailand's alkaloid-rich soil, green Thai strains are the best-selling and most recommended strains on the market.
Origin of Green Maeng Da Thai Kratom
Imagine you're in the middle of Thailand's fertile lands, the wind is gently blowing, and the exotic air of this Southeast Asian country is already starting to impress you. You'll most likely come across this beautiful evergreen tree, the miraculous kratom tree, very soon.
Green Thai Maeng Da, a Thai specialty, is created through grafting, a sophisticated technique in which the tissues of two different plants are spliced together to breed different qualities into a new strain.
Green Maeng Da Thai Kratom Uses
Green Maeng Da Thai kratom is known for its ability to relax your body and mind. It can be used in various ways. Green Maeng Thai kratom is an excellent way to unwind and stimulate your senses.
Green Maeng Da Thai Kratom powder may be less potent than Red Vein Kratom. However, in terms of the harvesting method, it is a very pure type of kratom. That is precisely why people prefer it. It became so popular among kratom enthusiasts in such a short period because it has long-lasting properties. Try Green Maeng Da Thai Kratom Powder if the duration of the effects is as essential to you as the quality of the impact!
Green Maeng Da Thai Kratom Effects
Regarding effects, Green Maeng Da Thai kratom can provide a significant boost in energy, which is ideal for people who work long hours, have tedious jobs, or are studying mentally draining subjects.
Green Maeng Da Thai kratom has stimulating effects at lower dosages. Expect mood enhancement and an increase in energy.
Green Thai has a calming and relaxing effect at higher doses.
Green Maeng Da Thai Kratom Dosage
There are numerous factors to consider when determining the best dosage for you. Everyone will react differently to the supplement depending on age, physical composition, and predisposition to other supplements. There are a few general guidelines to follow when determining how much is appropriate for you.
If you are new to a particular kratom strain, start with the smallest dose possible. Most experts recommend starting with 1-2 grams of any given strain. During this process, you can track how your body reacts to the supplement and make necessary changes.
When your body has adjusted to the supplement, and 2 grams is no longer sufficient, increase your dosage by 0.5 grams at a time. The majority of supplement users take 3-5 grams per day.
You will most likely notice the supplement's benefits within 5 to 10 minutes. Depending on the strain, these effects can last anywhere from 2 to 8 hours.
Lower doses of the supplement will, on average, increase your energy and attention. Higher doses, on the other hand, have a more significant effect.
How Should I take Green Maeng Da Thai Kratom?
Green Maeng Da Thai Kratom powder can be consumed in various ways. The best way to consume Green Maeng Da Thai Kratom powder is to take it on an empty stomach. However, your stomach should not be completely empty.
The most familiar green Maeng Da Thai Kratom methods are brewed tea, crushed kratom leaf, and capsules.
Green Maeng Da Thai Powder: Green Maeng Da Thai Powder is a powder that has a wide range of uses. It can be consumed orally or combined with other ingredients, such as water or juice, to create flavorful drinks.
Green Maeng Da Thai Capsule: If you want to consume your Kratom on the go, you can also use Green Maeng Da Thai Capsules. These capsules have been shown to deliver a consistent dose every time, so you know exactly what you're getting with each amount.
Green Maeng da Thai Crushed: If capsules aren't your thing, Green Maeng Da Thai Crushed can be sprinkled on food or mixed into drinks for a quick Kratom fix. If you prefer not to take pills or capsules, simply sprinkle some crushed leaves onto your plate when eating dinner or drink before drinking it.
Green Maeng da Thai leaf tea You can also make a herbal tea out of your Green Maeng Da Thai kratom if you want. The flavor is slightly bitter and, for some, unpleasant.
Where To Buy Green Maeng Da Thai Kratom?
Green Maeng Da Thai Kratom is well-known for its effects in the Kratom market. There is a wide variety of Kratom available at reasonable prices.
Furthermore, multiple verified vendors provide high-quality Green Maeng Da Thai Kratom with verified user reviews.
The Thai market is flooded with different green Thai Kratom powders and strains that patients can use based on their needs.
Things You Should Know When Buying Quality Green Maeng Da Thai Kratom
If you're looking to buy green Maeng da Thai kratom, it can be hard to sift through all options and choose the right one. You want to find a quality product that will give you an energy boost and help with mood enhancement..
Many factors help in determining what makes a good kratom powder, including:.
Quality of the Kratom
Supplier Reputation
User Reviews and Ratings
Growing Location
Package & Content
Affordability
Other Types of Maeng Da Thai Kratom
Maeng Da mixes vary among vendors and suppliers among the wide varieties of Kratom. They can come in red, green, or pure white vein Kratom. White vein Kratom is combined with red and Green Vein Kratom to create potent alkaloid-rich blends..
White Thai kratom is considered one of the best strains for stimulating effects. Green Thai kratom is excellent for promoting mild relaxation. Many users turn to Red Thai for relief or energy-boosting effects..
Conclusion
Green Maeng da Thai kratom, derived from the Mitragyna speciosa tree in Thailand, is a popular strain that offers users high potency and an intense kratom experience. It has a high alkaloid content, which can be overwhelming for some users, so if you're new to kratom, keep your initial dose low..
Green Maeng da Thai kratom has nearly all of the same benefits and effects as Green Maeng Da, but with a slightly lower potency..
Green Thai is a user favorite and offers benefits anyone and everyone can enjoy..
Its excellent herbal properties help enhance your mood, boost energy, induce euphoria, and help you focus. These benefits are what make it such a popular choice.