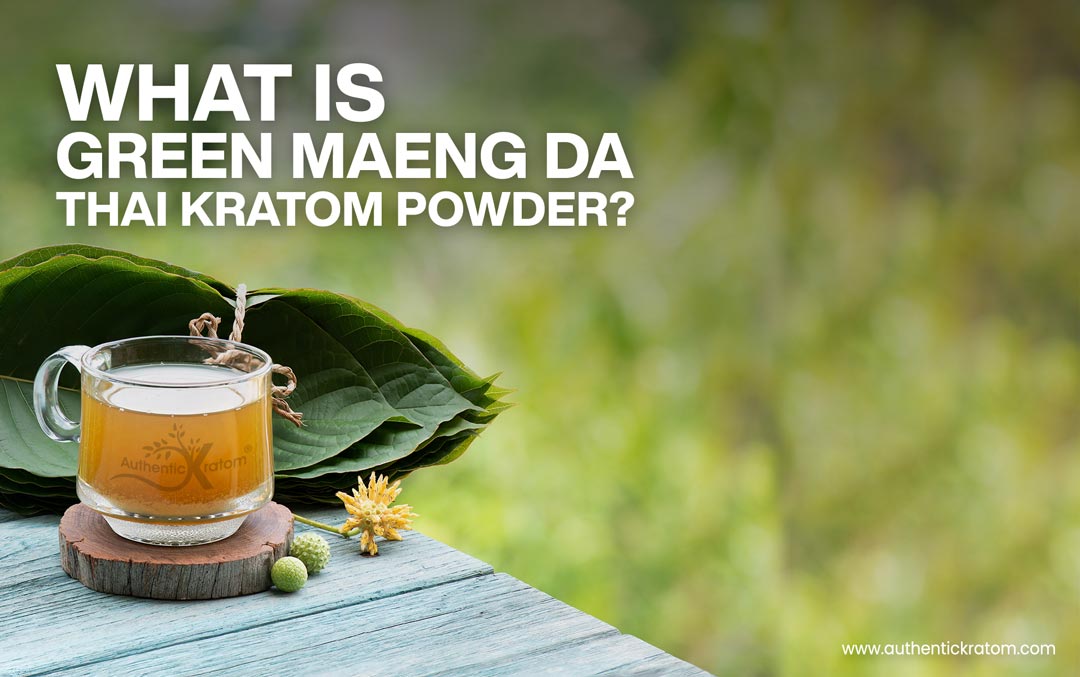 First things first, Green Maeng Da Thai Kratom powder is one of the greatest members of the Maeng Da Kratom strain type of the Mitragyna Speciosa family. It is well-known for its long-lasting and strong properties.
If you take Thai strain leaves as they are maturing and enhancing them with Maeng Da, the result will be Green Maeng Da Thai kratom!
This highly precious and rare compound, unknown even to most kratom enthusiasts, is harvested quite early. For this reason, their effects are perhaps not as strong as, for example, red vein kratom strains but this is a favorite plant species of Thailand, where you can be sure that it can give you the effect you want thanks to its organic compounds!
What Is the Origin of Green Maeng Da Thai Kratom Powder?
Imagine you are smack in the middle of the fertile lands of Thailand, the wind is blowing gently and the exotic air of this southeast Asian country is already starting to impress you. You will probably see this wonderful evergreen tree, the miraculous kratom tree, very soon.
Thai Maeng Da, unique to Thailand, is prepared by a classy methodology called grafting where the tissues of two different plants are spliced together to breed different qualities into a new strain.
Maeng Da Thai Kratom powder is divided into two types by their vein colors, Green Maeng Da Thai Kratom and Red Maeng Da Thai Kratom.
What Is Green Maeng Da Thai Kratom Powder Used for?
Green Maeng Da Thai Kratom powder maybe not be as strong as red vein. But it is a very pure type of kratom in terms of its harvesting method. That's exactly why people prefer it. The most important reason why it became so popular among kratom lovers in a very short time is that it has long-lasting properties. If the duration of the effects is as important to you as the quality of the effects, try Green Maeng Da Thai Kratom Powder!
What Does Green Maeng Da Thai Kratom Powder Do?
Green Maeng Da Thai kratom has the same effects as many kratom strains. What people have been using for centuries, both in the tropical regions of Southeast Asia and for what it does for the past few decades in the West, this extraordinary type of kratom is now being used for exactly that.
How Long Does It Take Green Maeng Da Thai Kratom Powder to Work?
Take 1 to 2 grams if you are a new user to feel the initial effects of the Green Maeng Da Thai Kratom powder within 10 to 15 minutes. Taking larger doses does not speed up this process. So avoid taking more than 6 grams of kratom. If you want to intensify the marvelous effects of Green Maeng Da Thai Kratom, you can take kratom up to 5 to 6 grams.
Where Can I Buy Green Maeng Da Thai Kratom Powder?
Isn't it great that Kratom is legal in many states of America! Of course, this achievement would never have been possible without the efforts of the kratom defenders! In states where kratom is legal, you can purchase the type of kratom you want from kratom stores and gas stations that sell kratom.
However, you may not be able to find a wide variety of kratom strains in every shop and especially at gas stations. Therefore, it is much more sensible to buy kratom online.
How Long Does Green Maeng Da Thai Kratom Powder Last?
The effects of Green Maeng Da Thai Kratom Powder can last as long as 6 to 8 hours depending on the dosages. You can take larger doses to increase the effects. However, it is not recommended to take more than 6 grams in one blow.
How Much Green Maeng Da Thai Kratom Powder Should I Take?
If you are new here it is always ideal to start with small dosages. Try getting used to the kratom with 1-2 grams, if you feel ready to increase the strength of the effects you can go up to 6 grams. But remember that 1-2 grams of use can take from 45 minutes to 1 hour before you start to feel the full effects.
How Should I Use Green Maeng Da Thai Kratom Powder?
The best way to consume Green Maeng Da Thai Kratom powder is to take it on an empty stomach. However, your stomach should not be completely empty.
So what is the better way to take kratom? You have countless creative formulas when consumed in powder form!
Making kratom tea, preparing delicious kratom smoothies, and adding it to your meals are just some of the options. You can also easily create your own kratom capsules at home.
In this way, you both save time and get rid of the earthy taste of kratom.
What Is Red and Green Kratom?
Wonder the differences between the different colors of gram strains? Let's explore the reasons behind it!
The difference between the kratom strain's effects and colors is about the age of the plant.
Sometimes, the way kratom leaves are dried and/or processed impacts the color or strain, but the major distinction lies in the age of the leaves when harvested.
White vein kratom is the young plant, green vein kratom is the plant as it's maturing, and red vein kratom is the fully mature plant.
As the kratom plant matures, different levels of alkaloids build within the leaves. The different alkaloids determine what effect the kratom will have and give the veins their unique properties. As the name refers, Maeng Da Thai Kratom strains grow in Thailand and have two sub-categories by their vein color, red and green. So let's take a look at red and green vein kratom strains' features.
Red Vein Kratom: Grows abundantly in Southeast Asia, red vein kratom is obviously more persistent than other Mitragyna Speciosa trees. Some research shows that its color indicates susceptibility to external factors. Red kratom originates from Thailand.
Green Vein Kratom: It is not as intense as red or white strains. Green kratom originates from Thailand. Like other kratom veins, it can be chewed, brewed as tea, taken as a powder, or even smoked. It also has a pleasant aroma.
What Is Kratom Powder/Capsule/Crushed Leaf?
These are the different consumption methods of kratom. You can consume kratom powder by making kratom tea, and smoothies, even you can mix them with your foods!
Kratom capsules, on the other hand, are pre-filled and pre-measure, so you don't have to worry about preparing your own. Plus we have crushed leaf which is obtained by drying and crushing kratom leaves.
Kratom crushed leaf differs from traditional kratom powder in that crushing rather than grinding has a more diverse alkaloid profile. It's one of the best options to have a cup of kratom tea.
Other Types of Maeng Da Thai Kratom
Maeng Da Thai Kratom strain has a red species besides green. It has much stronger effects and an alkaloid profile that is just as mature as green. But now we recommend using Green Maeng Da Thai Kratom first. Check it out right now!