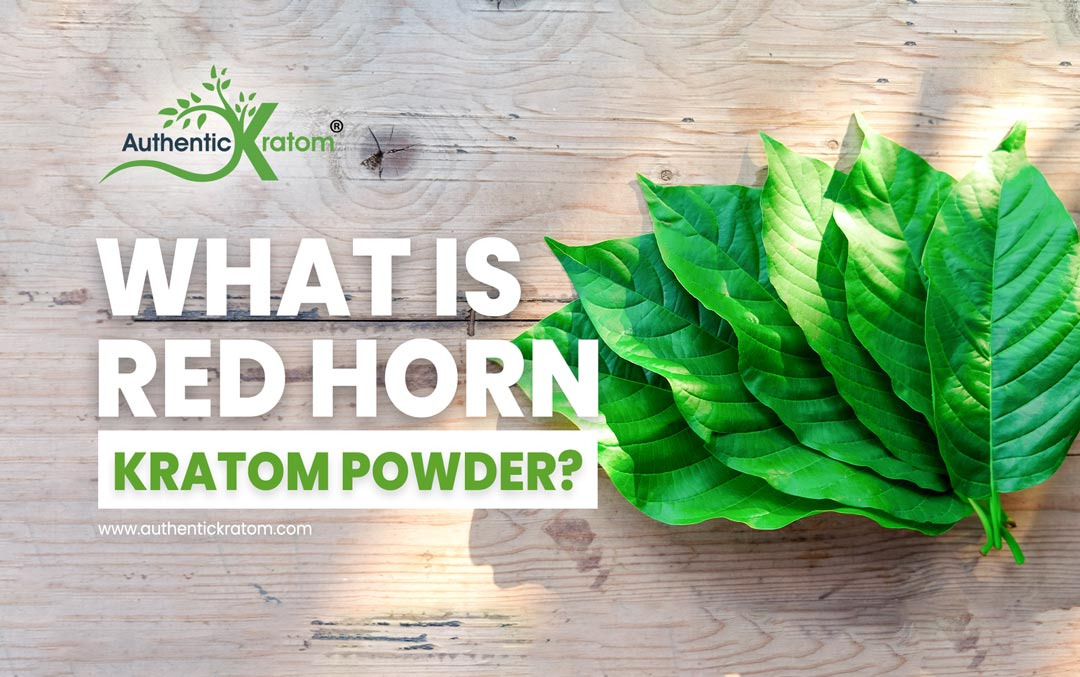 Did you come across the red horn kratom benefits too? When we first heard about it, we, too, put our foot down. But before we dive into the topic, you should know a few things. That is why we will take you from the start so that you do not miss out on any detail.
Red Horn is a popular strain in the Kratom family. This plant, scientifically known as Mitragyna speciosa, has been used for centuries in Southeast Asia and is native to Borneo Island and Thailand. It is an all-natural herb that acts as a stimulant, making users feel more energetic, stimulated, and positive. The edge and sharpness of its leaves set this well-rounded strain apart from other strains, and its abundance attracts Kratom users. Red Horn Kratom has a high alkaloid profile and delivers an exceptional experience to enthusiasts.
What Is Red Horn Kratom?
Red Horn Kratom is a cross between Maeng Da and other red vein strains. It has the typical shapes and colors associated with these different types.
Red Horn Kratom leaves have spiked horn-like features on the upper edges. The lower part of the plant has a red stem and veins, similar to other red vein varieties. Red Horn Kratom is distinguished by its sharp leaves.
What Does Red Horn Kratom Do?
Red Horn may offer an excellent red-vein experience. With a potentially slow, creeping effect, this Kratom strain may provide relaxation like no other; You might be surprised at how quickly the uneasiness in your stressed-out body will dissipate after using it for a few minutes.
To understand what Red Horn Kratom does, you must first understand its alkaloid profile. You should be aware that its effects are potent, so if you're new to Kratom, don't bite off more than you can chew.
Red Horn may also provide a variety of other effects, demonstrating its versatility. Here are just a few of the benefits that Red Horn Kratom provides:
Boosting Effects
Red Horn Kratom is well-known for its ability to alleviate mood swings and stimulate boosting effects. It accomplishes this by instilling positivity in you and improving motivation and productivity.
Improves Mood
This strain has been shown to induce feelings of peace and tranquility, making it highly recommended for a refreshing mood. Of course, it is not a one-size-fits-all solution nor a quick fix, but it has helped most people effectively manage their moods.
Sedating Effects
Red Horn Kratom also has analgesic properties, which can help relieve certain conditions. This is due to the high concentration of essential alkaloids in this strain. Red Horn Kratom can provide relief without making you sedated.
Red Horn Kratom Dosage
The Red Horn strain is more potent than several other strains. The benefits may be realized with a relatively low dose of 1 to 3 grams daily.
After consuming your strain, you will notice the first effects in 10 to 15 minutes. Red Horn Kratom has a very long duration of action. As a result, you can feel the effects for up to 7 hours with a moderate dosage.
Because it is an unpredictable strain, starting with the smallest dose is always recommended. If you've never done it before, you'll want to see how your body reacts.
The critical point is to avoid overdosing, as this can cause your body to develop Kratom tolerance.
Red Horn Kratom Forms?
This robust red vein strain is grown all over Southeast Asia and is available in various Red Horn products. Let's look at the various Red Horn Kratom products on the market.
Kratom powders are widely available and highly effective.
Kratom capsules are far more convenient than powder. You can take it with you whenever you want and whenever you need it.
Kratom crushed leaf The purest form of Kratom is a crushed leaf, and the best Kratom tea is made with crushed leaves.
Red Horn Kratom has many options, so you can make a lovely Kratom tea, a Kratom smoothie, or add it to your meals. The intensity of the experience will increase depending on the method of consumption you prefer.
Using Kratom potentiators to enhance this plant's natural abilities is also a very convenient method of consumption.
Other Types of Horned Kratom
Horned Kratom subspecies are distinguished by leaf color: in addition to the Red version, Green Horn Kratom and White Horn Kratom are available. The most potent of them all is
Red Horn Kratom.
The colors: red, white, and green represent the stage of the plant's life cycle when the leaves are harvested. The different shades also indicate the product's chemical content.
White vein Kratom is harvested when the plant is young. The leaves then turn green, resulting in green vein Kratom varieties, and when the plant is fully mature, the leaves develop red veins.
The levels of alkaloids in the leaves increase as the plant ages. It has more potent effects in mature varieties of plants.
Where Can I Buy Red Horn Kratom Powder?
Red Horn Kratom is not a strain that is easily obtained. If you live in a state where Kratom is legal, you can quickly obtain the strain you desire from a Kratom store. However, we cannot guarantee that this abundance of strain can be found everywhere without a complex mix.
Conclusion
While its effects are not always consistent, Red Horn kratom can benefit users in various ways.
We hope you find this guide useful when considering Red Horn kratom. If you decide to try it, start with a low dose to see how it affects your body. When purchasing the product, make sure that you are doing so from a reliable source.