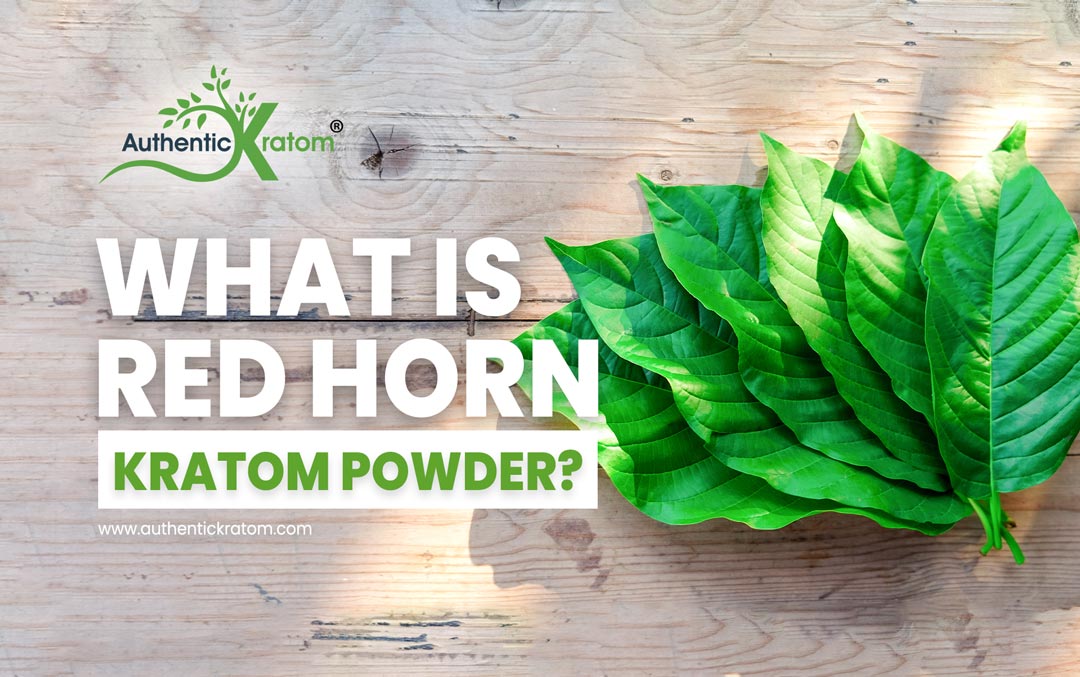 Red Horn Kratom, native to Borneo Island and Thailand, belongs to a subcategory of the Horned Kratom strain.
This well-rounded strain rises above other kratom strains with the edge and sharpness of its leaves, and its abundant nature makes kratom users a pitch. Red Horn Kratom has a high alkaloid profile and forges an exceptional experience for kratom enthusiasts.
Even the most venerable members of the kratom community can be mistaken in asserting where this kratom is native. So what is the root of this issue? Let's see together!
What Is the Origin of Red Horn Kratom Powder?
Often those who respond to the origin of the Horn Kratom allude to this issue. Chances are, this confusion stems from the Horned Kratom's name not denoting a region, unlike almost all strains.
Let's take a shortcut: Red Horn Kratom, like other Horned Kratom strains, is native to the Island of Borneo.
What Is Red Horn Kratom Powder Used for?
The hallmark of Red Horn Kratom is its sharp leaves. If you want the kratom experience to be uninterrupted and have powerful effects, better safe than sorry! The upfront effects of Red Horn Kratom will overlap with your expectations.
What Does Red Horn Kratom Powder Do?
To understand what Red Horn Kratom does, you need to know how rich its alkaloid profile is. You should know that its effects are quite strong, so if you are a kratom newbie you shouldn't bite off more than you chew.
Red Horn Kratom offers you ample opportunities: of course, it tastes earthy like other strains and so you can make a nice kratom tea, prepare a kratom smoothie or add it to your meals. The intensity of the experience will increase according to the consumption method you prefer. The choice depends on how frivolous you are!
How Long Does It Take Red Horn Kratom Powder to Work?
You've geared up for Red Horn Kratom among a series of kratom strains, but you have all sorts of questions. For example, when are the first effects felt after kratom kicks in your body?
The answer is clear: having consumed your strain, you can feel the initial effects in 10 to 15 minutes. The lynchpin about that is not to overdose as it can cause your body to develop kratom tolerance.
Where Can I Buy Red Horn Kratom Powder?
If you want to move the needle about your kratom experience, trying Red Horn Kratom can prompt your craving! However, Red Horn Kratom is not one kind of strain that is easily achieved.
Thanks to Authentic Kratom you can buy your Red Horn Kratom online at a good price. At the same time, if you are an individual living in states where kratom is legal, you can easily obtain the strain you want from a kratom store. However, we cannot guarantee that you can find this abundance of strain everywhere without confluence.
How Long Does Red Horn Kratom Powder Last?
The effects of Red Horn Kratom are very long-lasting. For this reason, you can feel the effects for up to 7 hours with moderate dosage.
Using kratom potentiators to harness this plant's own powers is also a very convenient way of consumption.
How Much Red Horn Kratom Powder Should I Take?
If you're new to kratom, 1 to 2 grams is more than enough. To avoid self-handicapping, 8 grams should be avoided. A dosage of 4-5 grams is ideal if you are a fastidious user and someone who hones in on the competence of the experience.
How Should I Use Red Horn Kratom Powder?
What should you pay attention to when using Red Horn Kratom? Never mix it with alcohol as this will cause undesirable effects.
Second, consume it on an empty stomach so that you can feel the effects more intensely. Attention: be careful not to be completely hungry.
In addition, you can parachute kratom, use the toss and wash method, make smoothies, and tea, or prepare kratom dishes while consuming kratom.
What Is White/Red/Green/Yellow Kratom?
The leaves of kratoms are distinguished by their color. If you harvest the leaves of the kratom plant early, you will encounter whitish leaves. If you're aiming for soft effects, white vein kratoms are for you.
As it matures, the leaves reach their green color and become much more well-balanced and much longer-lasting. Leaves need to mature quite a bit to become a red hue, and the red vein color is therefore quite strong.
What Is Kratom Powder/Capsule/Crushed Leaf?
Kratom powders are quite common and very effective.
Kratom capsules are much more practical than powder. You can take it with you as you wish, and you can take it in case of need.
Crushed Leaf is the purest form of kratom and the best kratom tea is made with crushed leaves.
Other Types of Horned Kratom
The subspecies of Horned Kratom are divided by leaf color: Besides the Red version, Green Horn Kratom and White Horn Kratom are also available.
Red Horn Kratom is the most potent of them all. Ready to deep dive into the world of Horned Kratom? Buy now and enjoy!