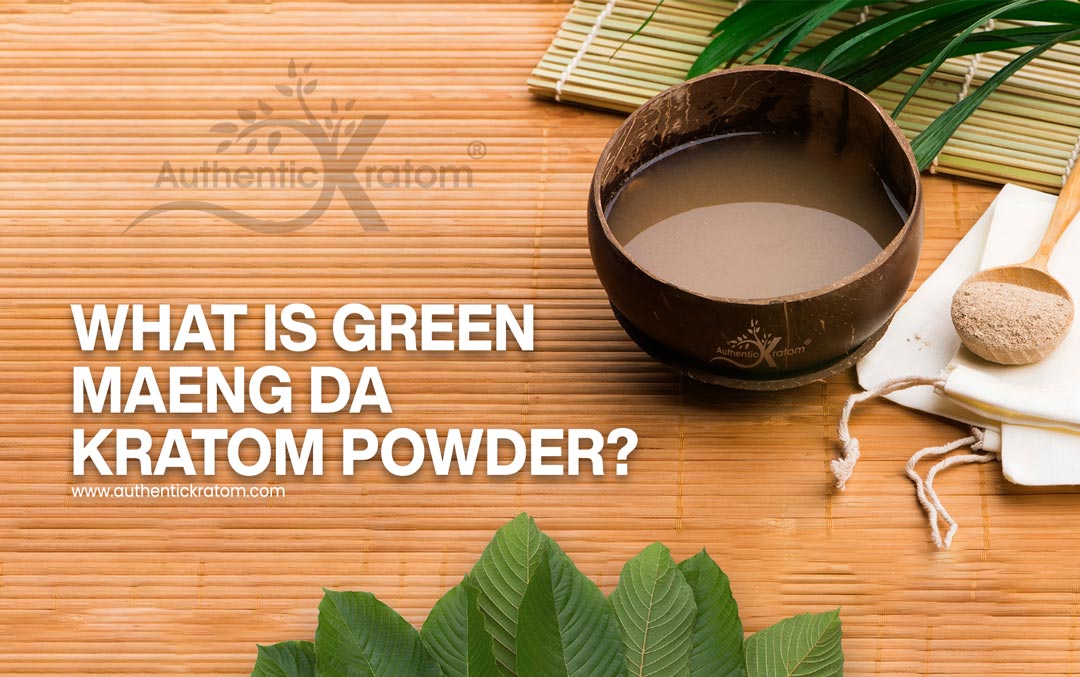 A subspecies of the Maeng Da Kratom strain, this extraordinary member of the Mitragyna Speciosa tree, Green Maeng Da Kratom, can be distinguished by its greenish tints.
In parallel with the increasing interest in kratom recently, the interest in different strain types has led to the development of strains such as Maeng Da and different vein colors. Perhaps the most striking of these is Green Maeng Da Kratom.
Kratom's most abundant alkaloids are mitragynine and 7-hydroxymitragynine, responsible for acquiring the alias 'pimp's grade'. The high concentrations of these alkaloids in Maeng Da make it highly potent.
What Is the Origin of Green Maeng Da Kratom Powder?
Green Maeng Da includes 80% of the green-veined kratom and 20% of the white-veined Kratom powder.
Of course, the ratio may vary from supplier to supplier. Indigenous to the Bunut region of Indonesia, Green Maeng Da Kratom is picked by farmers' hands immediately. This is why you can bet it's a top-notch option among kratom strain types.
What Is Green Maeng Da Kratom Powder Used for?
This blend is known for its impressive effects that can give kratom consumers what they need.
Green Maeng Da is one of the favorite choices of users who turn to alternative solutions. It is used a lot because it is a very potent mixture.
What Does Green Maeng Da Kratom Powder Do?
Green Maeng Da Kratom is doing today what it has done to the calloused peasants of Southeast Asia for centuries. Green Maeng Da, a very pure herb, is known for its potent and mild effects. The alkaloid profile present in it is also an important factor that increases its effects and efficiency.
How Long Does It Take Green Maeng Da Kratom Powder to Work?
Can't wait to start feeling the first effects of Green Maeng Da Kratom? Don't worry, this will only take 10 to 15 minutes of your time. After you feel the first effects, you are expected to reach the peak within 2 hours. Enjoy it!
Where Can I Buy Green Maeng Da Kratom Powder?
If you live in one of the states where kratom is legal, you can easily buy it from a kratom store or gas station.
But in our opinion, consider the online purchase option! Because this is a much more practical, pocket-friendly option that offers you a wide product profile.
How Long Does Green Maeng Da Kratom Powder Last?
Generally, the effects of Green Maeng Da Kratom are expected to last up to 5 hours. But if you consume too much kratom, your body develops a tolerance to kratom and therefore you will feel the effects less intensely and for a shorter period!
How Much Green Maeng Da Kratom Powder Should I Take?
Of course it all depends on what kind of kratom user you are. 2-3 grams is good for you to feel the effects properly. But if you're a rookie, it's always best to start with 1-2 grams. In any case, do not exceed 6 grams. You can be sure that you will feel the effects you desire with 6 grams.
How Should I Use Green Maeng Da Kratom Powder?
First of all, do not use kratom with other substances. Even if two good plants are used together, they can interact and this has undesirable results. Also, consume kratom on an empty stomach. This prevents unwanted side effects, bringing you closer to your desired desires.
As a method of consuming kratom, there are many options such as kratom tea and kratom smoothie.
What Is White/Red/Green/Yellow Kratom?
As the kratom plant matures, different levels of alkaloids build within the leaves. The different alkaloids determine what effect the kratom will have and also give the veins their unique properties.
What Is Kratom Powder/Capsule/Crushed Leaf?
These are the different consumption methods of kratom. You can consume kratom powder by making kratom tea, and smoothies, even you can mix them with your foods!
Kratom capsules, on the other hand, are pre-filled and pre-measure, so you don't have to worry about preparing your own. Plus we have crushed leaf which is obtained by drying and crushing kratom leaves.
Kratom crushed leaf differs from traditional kratom powder in that crushing rather than grinding has a more diverse alkaloid profile. It's one of the best options to have a cup of kratom tea.
Other Types of Maeng Da Kratom
Maeng Da Kratom is basically divided into Thai Maeng Da and Kali Maeng Da. Under these two main categories, there are sub-categories according to vein colors and kratom forms.