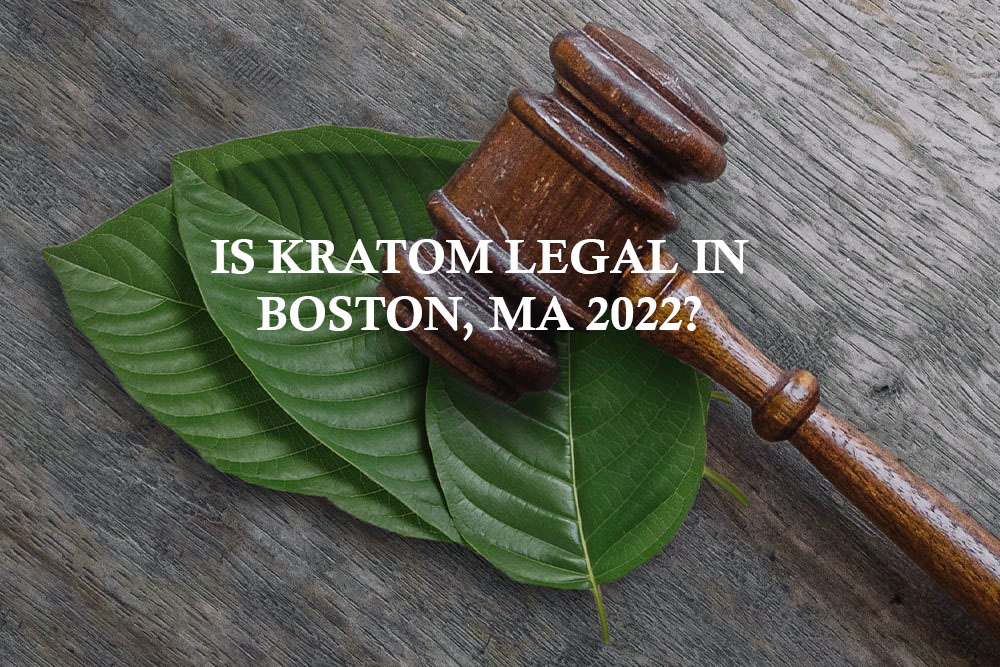 Boston is the capital of the Commonwealth of Massachusetts in the United States and the country's 24th most populated city.
As of now, kratom is entirely legal in Boston, Massachusetts. Because few states have banned kratom nationwide, it is a natural wonder if it is allowed where you reside.
Fortunately, Massachusetts hasn't. Cities can choose to prohibit specific activities within municipal limits.
If you live in Boston, you're safe to use it. You have the right to buy and utilize it in any way you see fit.
Kratom Legislation in Boston
Lawmakers once attempted to ban Kratom in Boston and the entire state. It was introduced in the form of Massachusetts House Bill 1789 in 2009. It was the first time government officials took kratom rules seriously enough to be debated in the Senate.
Nonetheless, these debates did not begin in favor of the herb.
The bill sought to categorize South Asian Herb as a Class B drug. The gravity was that if the state enacted the measure, the consumers would face severe penalties, including prison time.
Not only that, but it might result in a $1,000 fine. Fortunately, the measure did not become law, and kratom was exempt from the prohibition.
Although the Senate rejected the declaration, the debate over whether kratom is hazardous has raged.
Senate authorities introduced a new measure to ban kratom in 2011, barely two years after the first bill expired. The measure is known as Massachusetts House Bill 526 in the state. Mr. Webster of Pembroke introduced the measure to the Senate for publication.
It was introduced with the same goal: to classify kratom as a Class B drug and take possession, trafficking, and use as a crime.
Ultimately, the measure suffered the same fate and expired before becoming law.
The bill continues, with another measure appearing two years following the last bill in 2013. Because of the herb's rising popularity and instances of ill effects, officials considered outlawing it entirely this time.
However, the measure was not even presented for a vote, and the efforts to ban kratom were abandoned.
Since then, there have been no reports of kratom bans to be concerned about. As a result, kratom is legal in Boston and the entire state of Massachusetts.
Massachusetts Kratom Legislation by City and County
Currently, kratom is legal in Massachusetts. No city councils or county state authorities have prohibited the possession or sale of kratom within their jurisdictions.
People from around the state can benefit from the properties of this delightful plant. Visitors, too, do not need to check with the city hall again to determine if they may use kratom. It is legal in all Massachusetts municipalities.
Massachusetts locals object to efforts to ban kratom
Mitragyna Speciosa, also known as kratom, is a plant native to Southeast Asia and a member of the coffee family.
Except in certain places where it's illegal, you can find it packed as an herbal supplement for sale at head shops across Greater Boston and the rest of the country.
It's also available from online sellers all around the United States.
Due to a lack of rules, you can purchase the plant material in several forms and a fine powder produced from grounded leaves used to make tea or put in a pill for oral consumption.
Depending on the variety of the plant used and the amount consumed, kratom may either excite or calm the consumer.
Kratom enthusiasts promote it as natural therapy.
The Food and Drug Administration recommended to the Drug Enforcement Administration in August 2016 that kratom be classified as a Schedule I hazardous drug under the Controlled Substances Act.
This classification is intended for medications with no recognized medicinal value and a high potential for misuse.
At the time of the proposed prohibition, the DEA stated that the people were misusing kratom due to its capacity to induce sedative effects.
Kratom "has a significant potential for misuse, no currently acknowledged medical use in treatment in the United States, and no recognized safety for use under medical supervision," according to the release.

According to a 2019 article in the National Library of Medicine, the decision to ban kratom sparked a significant response from pro-kratom campaigners, led by the American Kratom Association, founded in 2014 to educate the public about the plant.
Despite declaring kratom an "imminent harm to public health" and receiving resistance from Legislators, the DEA halted the scheduling.
Kratom is now illegal in the states of Arkansas, Alabama, Indiana, Wisconsin, Rhode Island, and Vermont.
In Boston, MA, kratom is legal. However, the future of the plant's availability to the general public is uncertain.
Shipping laws of Kratom in Boston
When accepting kratom delivery, it is critical to research the state regulations of both the sending and receiving states.
If you send kratom to Boston, you must care about the home county. If your native state legalizes kratom, you may get any kratom shipments in Boston.
If you wish to send the herb to someone in another state, you may do so simply if the receiving state has no laws prohibiting or regulating the use of kratom.
In some places, age verifications are required. Therefore before you get a package, they will need documentation to validate your age.
However, this is not the situation in Massachusetts.
Buying Kratom in Boston
If you want to buy kratom in Boston, you have a lot of possibilities. Just be sure you buy from a reliable supplier. Unfortunately, you can't be sure you are purchasing a safe product until Massachusetts implements consumer protection regulations governing kratom.
Below are some of the best kratom shops in Boston:
Blue Moon Smoke Shop – 470 Commonwealth Ave
Maverick Smoke Shop – 25 Maverick Square
Boston Smoke Shop – 40 Boylston Street

Prevalence of Kratom in Boston
Kratom's prevalence in the area may be checked by its sales and consumption. Apart from the local kratom shops in Boston, some online sellers ship kratom throughout the Massachusetts state.
Many people shop online owing to lower pricing, higher quality, lab test reports, on-time doorstep delivery, and a more comprehensive selection.
Verdict
Kratom has a promising future in Boston. It's an uncommon occurrence, but this state has experienced no problems with this herb.
At present, Boston residents can sell, purchase and possess kratom freely. No active legislation in Massachusetts is in the works to compromise the kratom's legal status.
However, verify the legislation regularly to confirm that kratom is still legal in the state.
Disclaimer: The Food and Drug Administration has not reviewed these assertions (FDA). This item is not meant to diagnose, treat, cure, or prevent any illness.