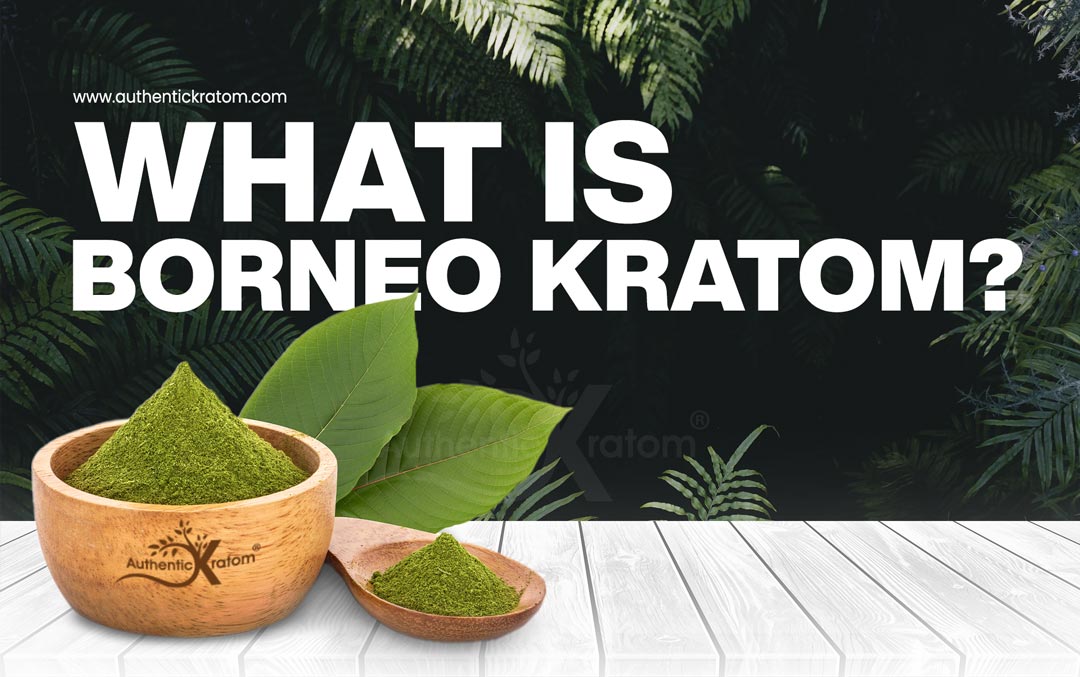 Borneo Kratom, which is indigenous to the third-largest island in the world and the largest one in Asia, is mainly cultivated in Indonesia and Thailand. Borneo kratom strains are among the most popular strains worldwide due to their rapid and surprising effects. There are four types of Borneo Kratom available in the market, each type has its own unique effects that the other can't provide.
The evergreen Borneo tree can reach a maximum height of 82 ft (25 m). The leaves are distinguished by their rich green and glossy color. They have a length varying between 5.5 to 7.9 inches (14 to 20 cm) and a width hovering from 2.8 to 4.7 inches (7 to 12 cm).
The leaves are shaped like an ovate-acuminate with 12 to 17 networks of veins running throughout a spectacular green central vein. The trunk is generally straight and may grow to 3 ft (0.9 m) in diameter with a smooth grayish-colored outer bark. The flowers can be spotted at the end of branches in clusters of three.
In order to preserve their traditional nutritional characters, Borneo Kratom leaves should be harvested, processed into powdery, and then sold when they reach the desired maturity. Thanks to the extreme weather of the area where Borneo Kratom is grown, it demonstrates richness and quantity.
Origins of Borneo Kratom
It might seem interesting but the Borneo Island belongs to three countries and is divided into three regions ruled by Indonesia, Brunei, and Malaysia.
Since this enormous island has been ruled by different empires throughout history, it is a culturally and ethnically mixed island.
Undoubtedly, one of the most important features of the island is the cultivation of Kratom. No wonder why kratom, which requires an equatorial climate, is so abundant and productive in Borneo. The humid air and nitrogen-rich soil of this island create an exceptional ground for kratom growth.
Especially as kratom has gained popularity in the West over the past few decades, other livelihoods have been set aside and farmers have focused on kratom production.
Types of Borneo Kratom
There are mainly four types of Borneo Kratom categorized by their leaf colors. Each color of Borneo Kratom strains includes different nutritional compositions such as various alkaloid levels.
The most potent type of Borneo Kratom is the Red Vein Borneo Kratom, whereas yellow veins are significantly alkaloid rich-plants and the green one is considered the least common type, and its effects are in between red and white Borneo Kratom strains. Also, we have Borneo Yellow Vein Kratom Powder which is highly rare to find in the market today.
Let's have a glance at each one of them:
Borneo Red Vein Kratom Powder
Grows abundantly in Borneo, it is obviously more persistent than other Mitragyna Speciosa trees. The mature leaves are ground into a sugar-like powder that has a distinct smell similar to freshly cut grass.
While a lot of kratom users suppose Red Borneo Kratom powder is actually red, the name of the strain indicates the color of the veins on its leaves. Some research shows that its color indicates susceptibility to external factors.
Borneo White Vein Kratom Powder
As the most popular type of Borneo Kratom, it has been used by local farmers since at least the 19th Century. Having experimented with various drying methods, they found an exceptional production method that is much more long-lasting, pure, and potent.
The Borneo White Vein Kratom is dried with its stems intact, indoors, for two full days. Then, it's taken outside for two hours of direct sun exposure.
Borneo Yellow Vein Kratom Powder
Probably Borneo Yellow Vein Kratom Powder is relatively the lesser known one of the Borneo Kratom family. With its roots traced to Borneo of course, its effects are somehow similar to the Green one. It is achieved by combining the green and red strains so that we can produce their golden hues. However not every vendor is capable of producing it because of its elaborate drying and fermenting requirements.
Proponents argue that it is indeed the "Best Indonesian Kratom" strain.
Borneo Green Vein Kratom Powder
Among the vast Speciosa family, Green Borneo has really sparked the Kratom Community's attention in recent years. Because of its shining quality of offering the best of both worlds. The Green Borneo Kratom refers to the greenish tint of the central vein and is identified with its strong aroma resembling freshly cut grass.
Dosage Recommendations for Borneo Kratom
If you are a newbie to Borneo Kratom, 1 to 2 grams is quite ideal. You can gradually switch to moderate doses, so you can go up to 3 to 4 grams. Moderate dosages often produce the desired strong and well-balanced effects. If you are a kratom master you can go up to 6 grams but avoid more as more will have adverse effects.
Similar Strains to Borneo Kratom
Borneo Kratom is very similar to Bali Kratom and Maeng Da Kratom in terms of its effects, cultivation methods, and native regions.
Moreover, with their alkaloid content, these three types of kratom will provide you with the nutritional values ​​you desire. Of course, each of them has its own characteristics and many distinguishing features.
However, it is possible to say that the similarities between Borneo Kratom, Bali Kratom, and Maeng Da Kratom overtake the differences.
How to Consume Borneo Kratom
It is best to consume Borneo Kratom on an empty stomach, just like other strains. In this way, you will feel the effects much more intensely and you can be content with lower dosages.
Another point to focus on is not to mix kratom with other substances and alcohol. Kratom can produce adverse effects if it interacts with different substances.
Where Can I Buy Borneo Kratom?
You can buy one of the most popular kratom products, Borneo Kratom, which is legal in many states of America, from various shops and gas stations.
But it is much easier, much more cost-effective, and much more practical to buy your desired Borneo Kratom strain online. What are you waiting for? Buy now!