Posted:
February 19, 2022
It's the benefit-packed supplement we all know and love. But do you really know all there is to know about kratom? From its endless list of benefits to our top tips for unbeatable experiences, we're taking you through the ultimate kratom guide for beginners. Let's dive in…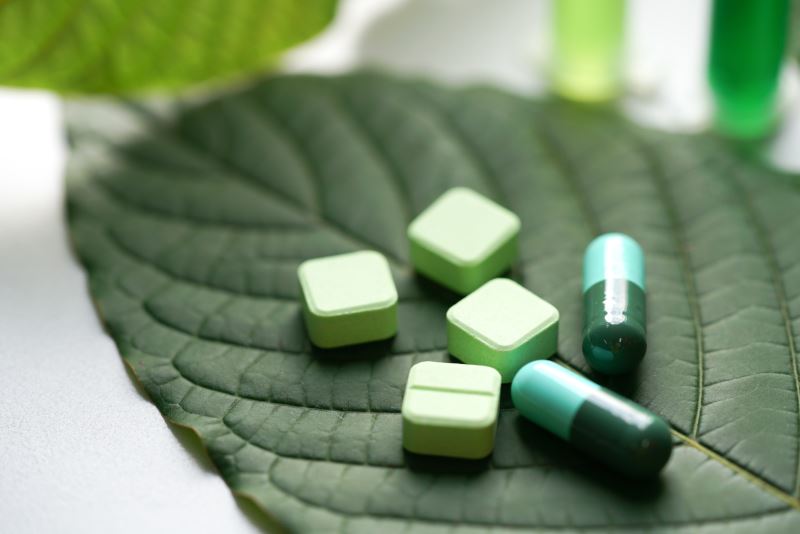 What is kratom?
Derived from Mitragyna speciosa, a tropical tree based in the heart of Southeast Asia, kratom powder is extracted from its leaves. Overflowing with feel-good properties, consumers can tap into countless effects, from pain relief and mental clarity, to experiencing the ultimate 'zen zone'.
Is kratom dangerous?
When following appropriate
dosing guidelines
, purchasing from
reputable retailers
, and avoiding negative interactions with prescribed medications, kratom is incredibly safe to use, offering wide-reaching benefits.
See for yourself!
How does kratom vary?
Offering
47 sought-after strains
, each product varies by color, effects, and the location where the plant was grown – for example, 'Borneo Kratom' was cultivated in the heart of Borneo, Indonesia.
Where is kratom found?
While we solely source our kratom from trusted Indonesian partners, the plant kratom derives from – Mitragyna speciosa – is native to sun-drenched Southeast Asia, namely Thailand, Indonesia, Malaysia, Myanmar, and Papua New Guinea.
What are the benefits of kratom?
Well…where do we start? With a mile-long list of benefits, kratom offers something for everyone, whether you're seeking a mid-afternoon energy boost, a focused mind as your finals near, or pain relief for those niggling aches.
Do I need to consume kratom daily?
Ultimately, that depends on you, your tolerance, and your needs. We recommend limiting your consumption to three times daily until you find your happy medium. If you enjoy kratom's hyper-focus effects, you'll only need to consume it as and when you need it. If you're seeking long-term relief, it's usually 1-3 times daily.
What side effects does kratom have?
When consuming kratom as recommended, side effects are incredibly rare. Should you accidentally over-ingest, you may experience nausea, hallucinations, weight loss, muscle pain, and a dry mouth. If your
side effects
persist, we recommend hopping into a phone call with your family doctor.
What is kratom's recommended dosage?
When dipping your toes into the kratom waters, we recommend starting with 2 grams
dosage
, allowing you to ease yourself in. If you don't feel any effects after 30 minutes, sprinkle in an extra 0.5 grams. Remember: Body composition, weight, and experience level all have a knock-on effect on your tolerance.
How often should kratom be consumed?
While we understand it's easy to get carried away by kratom's energy-boosting, ultra-relaxing benefits, slow and steady wins the race. For beginners, we recommend waiting at least 12 hours before your next dose, reducing to 6 hours for more experienced kratom enthusiasts.
What does kratom look like?
Landing on your doorstep in
powder
form, you should see fine, earthy-toned grains. As versatile as it is life-changing, you may also see kratom in the form of
capsules
or
dried leaves
.
How long does it take for kratom to kick in?
On average, you should wait 5-15 minutes to enjoy the effects of your pocket-sized positivity-booster, which should
last
for around 45 minutes – or up to 2 hours for large doses.
How should kratom be taken?
You can take kratom many ways. However, depending on your lifestyle, goals, and preferences, there are a multitude of ways to sample your feel-good supplement. From stirring your kratom in with your tea, mixing it with your favorite juice, or creating on-the-go capsules, the opportunities are endless. Make sure to read the kratom user guide entirely to learn more about kratom and it's use.
Is kratom legal?
Absolutely! Kratom has been given the green light by most of the globe, including 44 states, with the exception of Alabama, Arkansas, Indiana, Rhode Island, Vermont, and Wisconsin. Australia, Malaysia, Croatia, and several other countries are yet to give a thumbs-up to the world of kratom. Here are
7 common kratom myths and controversies
What color should kratom be?
Are kratom and kava the same thing?
While the two plants offer similar effects, they derive from different families, with kava offering a more relaxed, stress-free experience, in contrast to kratom's stimulating effects.
Can kratom aid studying?
Yes! A fast-track route to A's across the board, small doses of kratom can enhance mental clarity, improve focus, and reduce stress levels, complete with a kick of energy as deadlines loom.
Can kratom be used alongside prescribed medications?
Our underpinning aim is to provide safe, enjoyable experiences, so we recommend steering clear of psychoactive substances and sedatives while consuming kratom, avoiding negative interactions. We recommend you consult with your Primary Physician or ask your doctor before taking kratom.
How do I make kratom tea?
Used as a
herbal tea
across Asia, there are two core ways to introduce kratom into your get-up-and-rush-out-the-door routine. The most popular (and the easiest!) way entails boiling water, adding a splash of lemon juice, and stirring in a dose of
kratom powder
. Alternatively, enthusiasts may brew fresh leaves before taking a sip. If you've got a sweet tooth, a squirt of honey is key. Here is an article on
how to make kratom tea & receipe
.
Kratom or CBD – which is best?
With an endless list of overlapping qualities, from therapeutic effects and natural relief to their insomnia-combatting properties, both CBD and kratom are lauded globally. While CBD treats a wider variety of ailments, including epilepsy, skin conditions, and arthritis, kratom is often the premier choice for its energy-boosting effects.
How can I find a reputable kratom supplier?
Giving you optimal peace of mind, you should opt for a
retailer
who adheres to stringent GMP standards, in conjunction with a commitment to batch-testing for safety and potency. As a member of the American Kratom Association, we are regarded as an industry-leading firm, with the safety measures to suit.
Why buy kratom from Authentic Kratom?
Did you know, Authentic Kratom is first in the Industry to set bars high for kratom vendors? Live support via phone, email, Same Day Shipping, Free Shipping on All orders, quality control, customer focused? We know you have many choices to buy kratom online, however, giving us an opportunity to serve you is knowing what to expect from a reputable kratom vendor.
From day one, we have implemented
real reviews
on our website when we noticed majority of the kratom vendors in the industry uses fake reviews to manipulate customers and trick them into buying mediocre kratom. With the help of a thrid party software we were able to collect real time customers reviews.
While many kratom vendors online uses same green, white, red, or yellow strains of kratom and name them differently to manipulate customer's buying behavior, we on the other hand source kratom from it's origin, and lab test our kratom individually. If you notice our lot # starts with a 5 digit number, that's the sku number for each product. So, all 47 products we carry at the moment, goes through lab testing to ensure your safety and receive the right potency level.
We don't want to boar you with any more information, but In case you feel that we can live up to your expectation, please give us a try and you won't regret it.